We are so proud of our work providing fair access to capital to cannabis business companies across the nation, and specifically in Illinois where we have been at the forefront of change. We are creating a new model founded on equality, empowerment and restorative justice that will change the future of this industry.
Seke said, "I believe wholeheartedly in the concept of restorative justice. The potential for this industry to be used as a catalyst of change is high. We cannot miss this opportunity to build social cohesion and rebuild communities, that's how we make this an industry that gains ubiquitous support."
Check out the rest of Seke's Cannabis 50 Q&A here.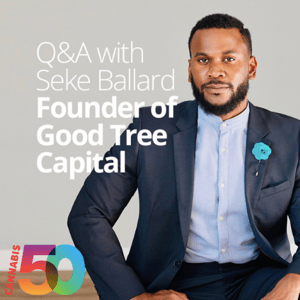 The report was created to "celebrate the individuals and organizations making a positive impact across the regulatory, operational, financial, and cultural obstacles facing cannabis today."
It's an honor to be be recognized for our efforts and we are grateful to be included among this stellar group of cannabis industry pioneers.
Check out the full report here.
To learn more about Good Tree Capital, visit our website.