A few months ago, we shared some initial thoughts about how the coronavirus was impacting the cannabis industry. Despite the economic uncertainty at the time, we felt optimistic about the investment opportunity in cannabis. And despite today's grim socioeconomic reality, our outlook remains bullish.
It is impossible to ignore COVID-19's positive impact on the industry. While other industries have been completely upended, cannabis has proven to be essential, adaptable, and deeply rooted in our economy. Retail sales of medical and recreational cannabis in the U.S. are on pace to eclipse $15 billion by the end of 2020, an increase of approximately 40% over 2019 sales figures, according to
MJBiz Daily
.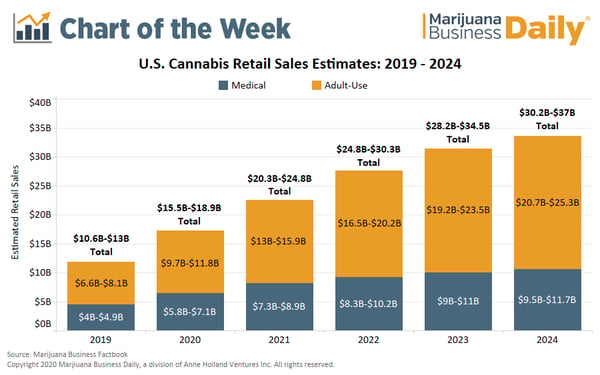 And in the most difficult phase of the coronavirus pandemic, marijuana stocks performed significantly better than the broader market. Pure-play marijuana ETFs added 17.7% month-over-month versus 5.3% gains in the S&P 500 index (as of May 22, 2020).1
The good news doesn't stop there. Forbes recently reported that two Canadian researchers are looking at using a special strain of cannabis to fight COVID-19. There is still much research to be done to prove their theory, but it goes to show the versatility of the plant and the growth prospects of the industry.
New York, Pennsylvania, Tennessee, New Mexico and several other cash-strapped states championed cannabis legalization as a tool to repair their broken budgets. New Jersey and Arizona, among others, have legalization on the ballot in November, adding pressure to their neighboring states. State legalization, however, is just one piece of the puzzle. These essential businesses still lack access to capital and other financial services that are crucial to stay afloat, as we saw most recently when they were shut out of PPP loans and other federal stimulus.
Our view is that this represents a unique opportunity for cannabis industry investors. Product demand is surging while at the same time individual operators are starved for financing to adapt to the new normal. We would love to share more details about how Good Tree Capital is creating value for our investors by financing cannabis operators.
Contact us to schedule a meeting
Subscribe to our newsletter: The Good Tree Capital Review
1 Source Yahoo Finance